Stone baskets give your garden a trendy look
Modern garden design constantly presents home and garden owners with new challenges. But at the same time there are new creative possibilities for you to design the outdoor area in a unique way. Gabions are one of the trendy design options outside. These sturdy wire baskets filled with broken stones can look a bit rough and sturdy at first glance. However, they are able to give your garden a trendy look and contribute a lot to its luxurious design. We also know gabions as mesh baskets, bulk baskets or stone baskets. No matter what they are called, they have become an integral part of modern garden design. Because the stone baskets have an important practical and aesthetic application in the garden and bring it to a new level visually. If you want to give your outdoor area a trendy look and add practical added value, then you've come to the right place. Stick with it and get inspiration for gabions in your own garden!
The practical and the aesthetic aspects of using the stone baskets in the garden go hand in hand.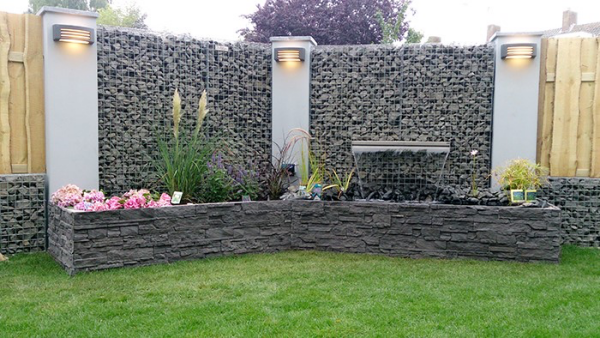 ---
Elegant and robust in one!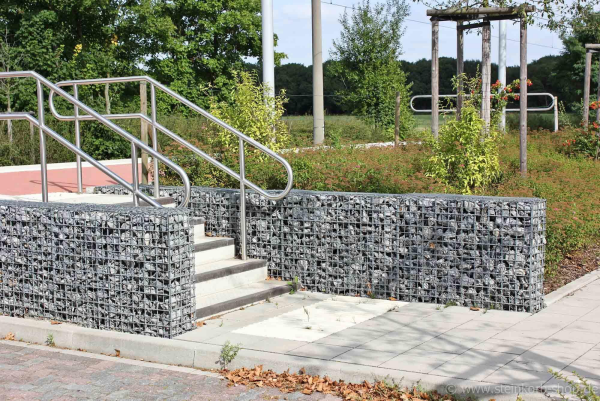 What are gabions and what use are they in the garden?
The word "gabbione" comes from Italian and means something like "large cage". In modern garden design, gabions are finished, galvanized wire baskets that are filled with rubble stones or chunks of glass. These are used as garden fences or to demarcate individual areas in the garden. In addition, the stone baskets serve as perfect privacy and noise protection outside. With a nicely designed gabion protection wall, you are in good hands in your outdoor area and protected from prying eyes. So you can enjoy your time in your own garden to the fullest. Quite undisturbed, because the filling material is also noise-insulating.
Gabions are often combined with wooden fences to achieve a first-class result.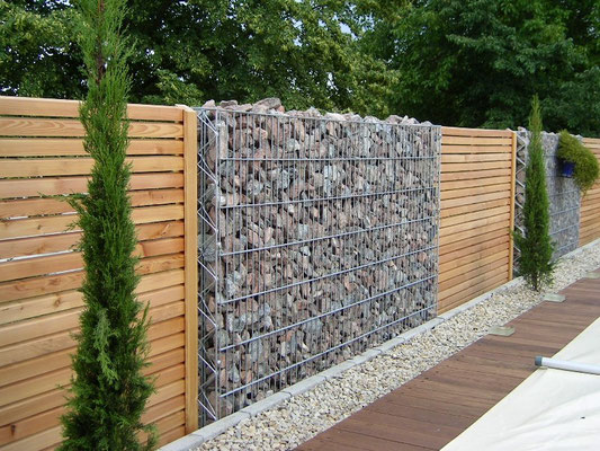 The stone baskets serve as perfect privacy and noise protection.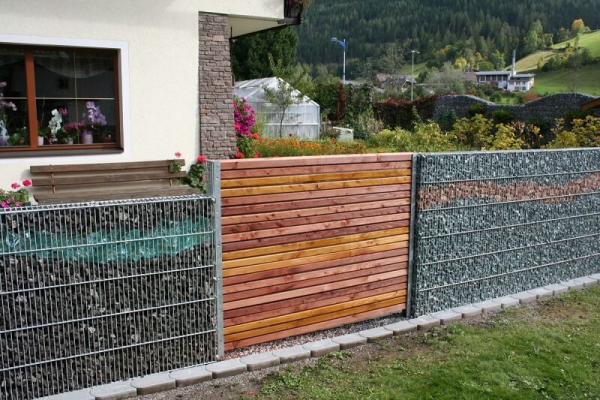 However, this by no means exhausts the application possibilities of the stone baskets outdoors. These are also used in the design of garden chimneys and garden benches. You can even create waterfalls, planters and other decorative outdoor elements with gabions. Depending on your purpose, you can choose the size of the stone baskets and determine the filling material. However, you always have to pay attention to the mesh density of the wire baskets so that the filling material does not fall out.
Do you dream of a place of calm in the open air? Then you definitely need a gabion bench in the garden!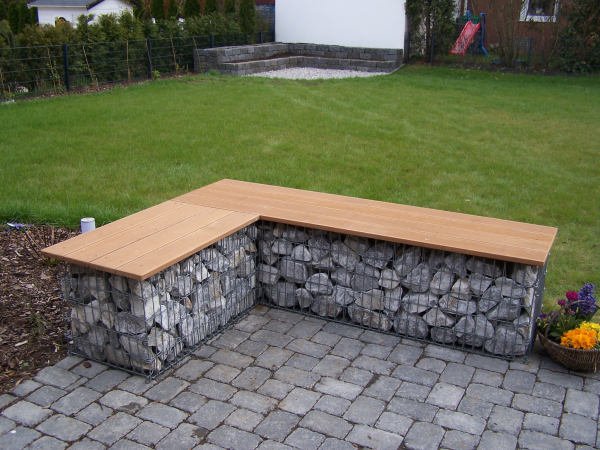 What other advantages do gabions bring you?
Gabions are very popular in modern garden design because they contribute a lot to a clean and cleverly designed garden. In addition, they are quick and easy to assemble, which is not difficult for any garden owner. You can set it up yourself. In addition, you can order the stone baskets in different heights, widths and depths so that they fit perfectly in the specific place in the garden. Filling is not complicated either. However, for best results, we recommend that you read the instructions for filling the gabions online and then follow them.
The stone baskets are quick and easy to assemble and fill.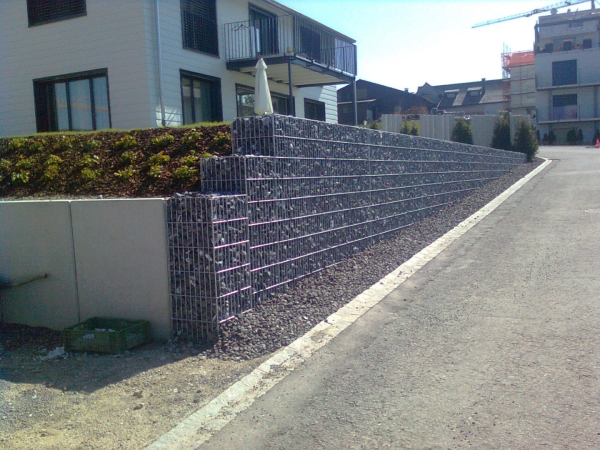 Robust and durable, maintenance-free and recyclable – these are modern gabions!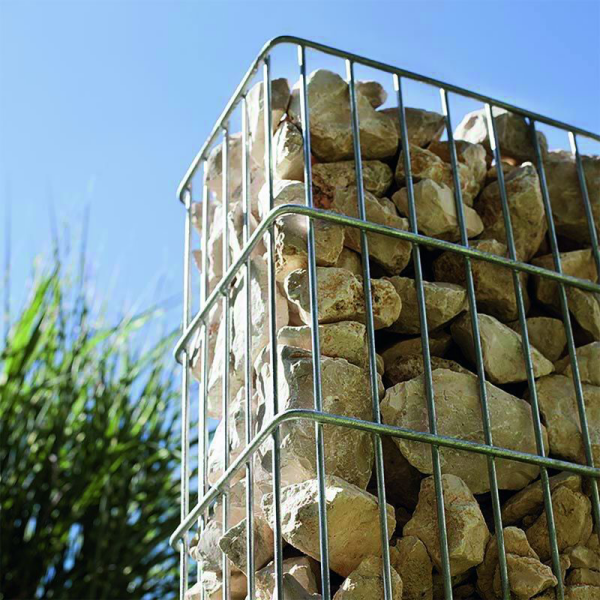 The robust stone baskets have a special plus point – they are absolutely maintenance-free. Additional painting and trimming are not necessary at all. In addition, the metal structures are completely recyclable. With your decision to use them in your own garden, you are contributing a little to environmental protection. But all stone baskets score with their longevity, their lifespan is calculated to be at least 50 years. This means that you can enjoy your gabions outdoors for many years to come.
Our extra tip: Check out the possible uses and the pluses of gabions in the garden again and act boldly! Order your stone baskets online and design a trendy outdoor area full of modern aesthetics and tranquility!
Everyone feels well protected here and can rest completely undisturbed.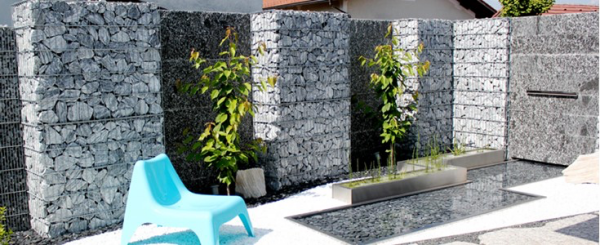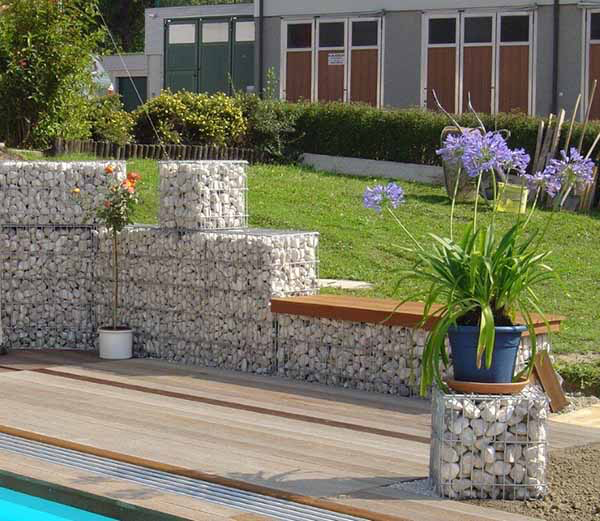 Visit the rest of the site for more useful and informative articles!